Environmental, Health, and Safety Engineering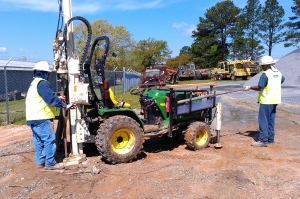 ERT has decades of environmental, health, and safety (EHS) expertise supporting clients including NOAA, NASA, the U.S. Army Corps of Engineers, and local governments. Our certified SMEs provide services ranging from performing hazard assessments, developing EHS policy and procedural recommendations to conducting field work such as performing environmental field investigation and implementing remedial solutions.
Environmental health and safety assessment

: Our specialists provide a wide range of services including environmental impact assessments, RCRA compliance monitoring, and the analysis of environmental factors such as pollution, contamination or usage policies on the health and safety of communities, ecosystems, and the public.

Environmental investigation and remediation

: ERT's trained and certified experts work with customers and regulators designing and implementing optimized remedial strategies that mitigate environmental liability associated with hazardous, toxic and radioactive waste (HTRW) and unexploded ordnance and reducing life-cycle cost to remedial goals.

Workplace safety compliance

: ERT performs all phases of workplace safety compliance from Job Hazard Analysis (JHA) development, health and safety oversight, and QA/QC monitoring. ERT's "Safety First" approach and adherence implementation of a Three-Phase Control System ensures workplace safety, environmental protections, and compliance with state and local safety regulations while protecting the public and environment during customer projects. 

Public health community outreach and education

: ERT SMEs work with our clients to strategize, develop and implement health and safety outreach campaigns addressing stakeholder and public concerns during environmental remediation or construction projects.