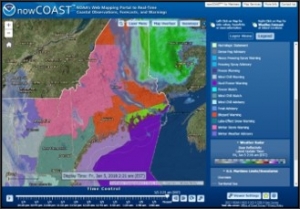 ERT has decades of experience supporting GIS application development and analysis for our customers, including NOAA and the U.S. Army Corps of Engineers. Our SMEs help customers enhance a wide range of capabilities in navigation, weather modeling, geophysical analyses, and coastal economic planning.
Component-based Web Applications

: ERT's development approach enables application scalability, progressive extensibility for evolving to new technologies, and reduced development level of effort.

Human-centered Design

: Our design methodology provides responsive user interfaces that support different client device form factors, interfaces, connectivity quality, and intuitive use.

Common Web Mapping Framework

: ERT GIS specialists develop frameworks to provide easier access and greater usability of datasets that enable different user communities with different weather and technical expertise to customize search and data presentation.

GIS Data Integration and Visualization

: ERT data specialists and developers apply GIS technologies to analyze and improve precision navigation, weather, and coastal flood modeling, and climate studies.