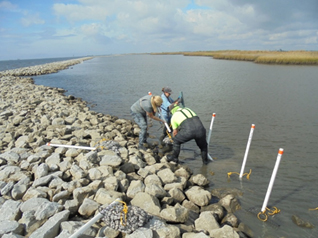 ERT provides multidisciplinary expertise to address the complexities of environmental conservation and restoration. We solve scientific, technical, and policy challenges that hinder the assessment of habitat protection and conservation alternatives, and prioritize resource usage to achieve maximum benefit for fisheries, habitats, economies, and communities. We perform installation-wide environmental compliance support, munitions hazards remediation, and the full suite of restoration services for groundwater and soils.
Policy Analysis:

Our policy experts research and evaluate programmatic objectives and strategic planning on vital conservation issues and trends including, for example, blue carbon, living shorelines, wind energy, in-lieu fee mitigation, and ecosystem-based fisheries management.

Environmental Compliance:

We support the entire range of environmental statutes and regulations at the Federal, state, and local levels, including identifying new and applicable requirements, performing activity/operational reviews, developing plans and permits, and researching requirements.

Restoration Planning and Monitoring:

ERT works side-by-side with our clients to develop, implement, and monitor restoration projects, plans, and strategies that benefit habitats and promote resilient ecosystems and communities; from initial site inspections to remediation system design and optimization to large-scale removal actions.

Geotechnical and Hydrogeologic Services:

ERT staff includes industry experts in geophysical detection and mapping, groundwater modeling, and karst hydrogeology. We maintain our own equipment and our technologies span ground penetrating radar, electromagnetics, seismic refraction, and electrical resistivity. We perform well installation for groundwater monitoring and remediation, sampling, and aquifer testing.